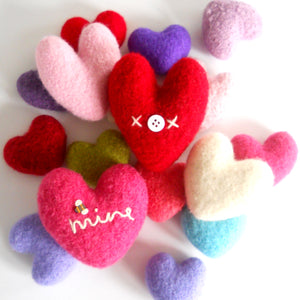 Woolly Sweet-Hearts is a knit & felt heart design.
A
quick and easy knit for creating whimsical hearts for those special sweethearts in your life! The pattern gives instructions for a Traditional and Folk-style heart in two sizes: small and large.
Legend says a red heart symbolizes love and passion; a white heart, true love and purity of mind; and a pink one, sweet friendship. Knit a heart in every color to show your true colors!
Pattern comes with instructions for two embellishing designs, but don't hesitate to play and come up with your own!
Skill Level:
intermediate, use of double point needles
Materials: 
#4 worsted weight 100% wool yarn, size 10.5 double point needles, 100% wool fiberfill, bee button
Recipe:
 Amish Friendship Bread Starter Dough
Marie Mayhew © All rights reserved.