Marie's Ongoing Sample Sale
I've opened a second Etsy shoppe to sell all my various samples that I have created over the years. I'm adding them daily. I'm cleaning house and want to share the love! They are priced to sell.
You can tell everyone that you knit them. I'll never tell! Come check it out!
Sample Sale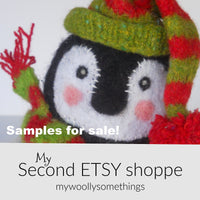 'Cause I felt like it . . .
Felting to me is pure magic. How it transforms from a sloppy, oversized knitted piece into an intentionally shrunken, nubby version of itself is a delight and a real mystery. I believe felting brings out the artist in everyone!
Let me help you explore your creative side. Come play with me and my patterns. A woolly something is only a few stitches away!
My Woodland Pals™ Series
This little bear is the first of five in My Woodland Pals™ series: a bear, a bunny, a fox, a raccoon and either a badger or a squirrel. With a friend, we are just getting started on creating patterns for a line of knitted clothes and accessories that will fit all of the pals. Follow me on Instagram or my blog to stay in touch.
As a kid, I wrote journals about my woodland pals. Stories that told of their friendship and adventures. Sadly I threw them away. But they are coming back to me the more I create the animals in 3D sculpture. I anticipate little books to follow.
I feel like a kid again!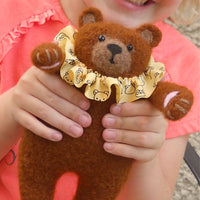 Knit-Only Patterns!
Along with my 'knit & felt' patterns, I have published four patterns in my new line of knit-only designs: Pillow-Toss Pumpkin, Pumpkin Patch (photo shown), Cable-Stitch Pumpkin, Tartan-Plaid Pumpkin, Buffalo-Plaid pumpkin and Seed-Stitch Pumpkin. No felting required!
Same attention to detail, plenty of texture without any felting. I will be adding more, so check back or join my mailing list for updates.
Knit-Only Patterns
TESTIMONIALS
Marie, the brilliant pattern creator behind these designs, never never disappoints. Her patterns are always so thorough and well written and include additional options for adding personal touches. And I am always surprised by the clever ways and tricks she uses to achieve contours and shapes. Highly recommended.

Pam from Vancouver, WA
Love her patterns! They turn out great and are fun to knit.

Beth from Lakeville, MN
This is one of the most thorough patterns I've ever read. I've never done felting but this pretty much walks you through it. Really nice job on the detailing!

Dawn from Union, WA