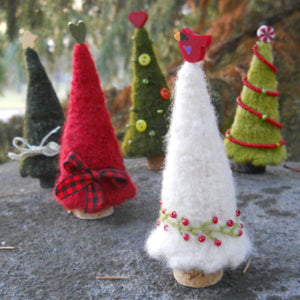 This pattern is a knit and felt holiday place setting design.
This pattern is a quick and easy knit using 13 yards of worsted weight yarns and size 10.5 double point needles!

Create a memorable impression with your display of decorated trees for your next holiday gathering. Treat each guest with a special gift to take home with them. Each felted tree measures about 4-inch/10-cm tall including trunk. The trunk can be a wine cork or cut from a tree branch. Embellish with ribbon, a string of beads, button polka dots, and/or simple embroidery!

Do you need any wine corks for your little tree trunks? I sell Wine Corks too.
Skill Level: intermediate, double point needle experience needed
Materials: worsted weight yarn, size 10.5 double point needles, fiberfill, cork or tree branch, materials for embellishing ideas 
Recipe: Brandied Cranberry Relish